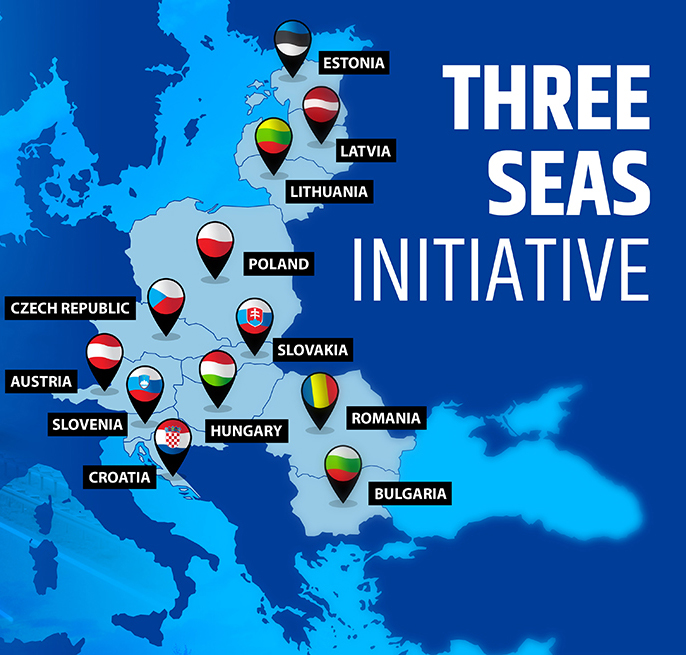 The Three Seas Initiative, established in 2015 is one of the largest geopolitical projects in Central and Eastern Europe, designed to integrate countries of the region within the European Union.
The priority goal of this project that brings together 12 countries located between the Baltic, Adriatic, and Black Seas is to strengthen the relations in the region in terms of economic development, energy security, transport infrastructure, and digital communication.
In the era of such intensive changes in the global balance of power, caused by the growing importance of Asian countries (especially China), Russia's imperial aspirations, instability in the Middle East and Africa resulting in a problem of migration, as well as in the face of progressing climate change, the common challenges faced by the members of the Initiative go far beyond the economic aspects. Thus, the idea of intensification of cooperation between the Three Seas countries should also take into account the multidimensional threats to the security and stability of Central and East European countries which significantly affect the prospects for the implementation of the main economic tenets of the Initiative.
Therefore, a significant research gap has emerged, covering the area of cooperation between the Three Seas countries in the domain of broadly understood security. The THREE SEAS ONE OPPORTUNITY conference, organized by the University of Zielona Góra, Układ Sił monthly magazine and Collegium Nobilium Opoliense, undertakes to fill this gap by creating a platform for the exchange of views on the potential areas of cooperation of the Initiative members.